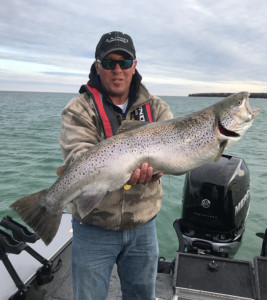 Amid our spring fishing adventures here in Sturgeon Bay, we recently had the opportunity to host some very special guests. We were proud to spend some time fishing with the folks from Lund Boats, and film an episode of The Ultimate Fishing Experience TV show.
Spring weather has been crazy here in Door County, Wisconsin. With ice still on the water in many places, we were limited in where we could take the Lund Ultimate Fishing Experience crew.
But that didn't slow us down! We found the Lake Michigan brown trout and put a number of really big fish in the boat. All anglers were happy, the crew got some great footage and we had a ton of fun.
We had some casting opportunities to the big browns, but most of our success was trolling that day. We were finding fish in shallow water, in most cases about 15 feet or less. Catching these big brown trout is always fun, but especially when we're catching truly big ones.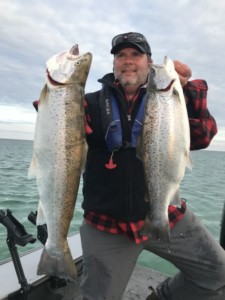 This episode of the Ultimate Fishing Experience presented by Lund is slated to air next January. But stay tuned for details on the exact timing. We are excited to share this experience. Door County is of course well known for its smallmouth bass and walleye fishing. But this is a great chance to show one of our favorite and underrated opportunities – early spring fishing for big Lake Michigan brown trout!
If you have questions about our Brown Trout fishing or any of the guided fishing trips that we offer here at Nick Nault's Guide Service, please explore the rest of our website. You may also contact us online or call Nick at (920) 839-2272.