It has been a crazy spring here in Sturgeon Bay. We've had late storms leave as much as 30 inches of snow. We've had periods of warm weather, rain and everything in between. But despite the schizophrenic forecast, we've enjoyed some great spring fishing conditions here in Door County, Wisconsin.
There is still ice on the water, so we've been limited in where we can fish. But we've had no trouble getting into some giant brown trout and big walleye. The early season trophy fishing has been outstanding.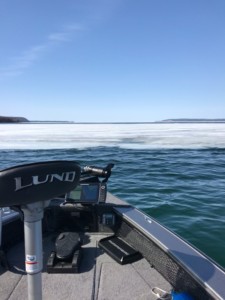 We've been casting to some brown trout recently, but our best success in these conditions has been trolling. The water is extremely clear and we've been catching most fish along shorelines in very shallow water.
Now with the official season opener on May 1st, we can turn our attention from purely a trophy walleye fishery, to targeting more numbers of fish. Limits now increase from one to five walleye. While we love catching big walleye around here, we love the fast-action fishing and catching more fish each day. And there are still plenty of big ones to be found!
With the late ice on the water this year and colder than normal water temperatures, the spawn is going to be delayed. This plays into our favor. It should be an outstanding year to target spawning fish after the season opener.
In addition to big walleye and brown trout, it probably goes without saying that we are looking forward to some awesome smallmouth bass fishing this year too! Stay tuned for updates on bass fishing throughout the season.
If you'd like to learn more about our fishing adventures in Door County, Wisconsin with Nick Nault's Guide Service, please check out our Bass, Walleye & Brown Trout page. If you'd like more details or availability for specific dates, you can contact us online or call Nick directly at (920) 839-2272.
We look forward to fishing with you soon!