Happy New Year from Nick Nault's Guide Service! We hope you had a wonderful holiday season with your family and friends. And we hope you're looking forward to some great new adventures in 2018.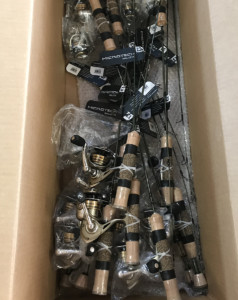 We are looking forward to the upcoming ice fishing season. And we've got a bunch of new ice fishing gear to help us get excited. Temperatures have dropped, conditions are looking good, and we've got a ton of new toys for our guided trips.
Over the holidays we received shipments of new Marcum Flashers. The Marcum 5 is an extremely advanced flasher-sonar system with incredibly crisp definition. Our ice fishing guests this season will really appreciate the quality, and have fun fishing with these systems.
We also received a shipment of new jigging rod and reel combos. And we are super excited about some new StrikeMaster ice Augers.
In addition to all the new ice fishing gear, we've also put the finishing touches on a new fleet of ice houses, now ready for the 2018 season. We look forward to hosing our guided ice fishing trips in comfort and style this year.
If you don't already have plans for a Door County, Wisconsin ice fishing trip this year, please call Nick now at (920) 839-2272 or you can contact us online. We're offering some of the finest guided ice fishing trips in the Sturgeon Bay and Green Bay area, and we'd love to see you this season!