We hope you're summer is off to a great start! Here in Door County, Wisconsin, the summer salmon fishing season is already going strong! We've been catching good numbers of salmon on Lake Michigan so far this summer, including some big fish!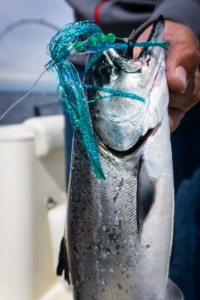 With our new charter boat now in the water, we are able to accommodate up to six guests at a time. Our first day fishing in the new boat, we reeled in six nice fish, including a 25-pound king salmon.
With the salmon bite in full swing, fishing conditions should remain excellent through the rest of the summer. Fishing conditions have been great near Sturgeon Bay, and further north as the salmon continue moving up. We're looking forward to having a ton of fun out there during the warm months.
We still have some openings for summer salmon fishing on Lake Michigan. If you're interested in booking a day of guided fishing, please send us a message or call nick at (920) 839-2272.
In addition to the salmon fishing, our smallmouth bass fishing on Green Bay continues to be excellent. We've been catching some big post-spawn bass this year. We're also enjoying great walleye fishing on the Green Bay side of Door County. If you'd like to learn more, visit our Bass and Walleye Page.
If you plan to be in the Sturgeon Bay area and in Door County this summer, please don't hesitate to get in touch. We'd love to help you plan an ideal fishing trip. You can reach Nick directly at (920) 839-2272 or you can contact us online.